The fourteenth annual survey of Mobile won the readers' vote Mobil.cz Samsung Galaxy SII. In second place was the Apple iPhone 4S and third place won the Nokia N9.
    
Apple failed to uphold the primacy of the three previous years survey of Mobile. In fact this year, the fourteenth, won Samsung Galaxy SII with a margin of several hundred votes just before 4S iPhone . With a significant gap over third Nokia N9 .
Poll conducted from 1 and 20 November and was attended by nearly 30,000 readers portal iDNES.cz. Each of the voters could choose three phones. Partner of the 14th annual survey was www.huramobil.cz shop, which donated all the prizes for the drawn readers.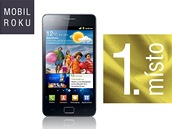 Mobil in 2011, 1st place – Samsung Galaxy SII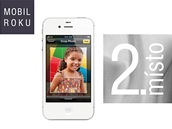 Mobil in 2011, second place – Apple iPhone 4S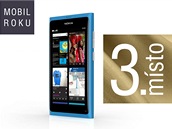 Mobil in 2011, 3 place – Nokia N9
Like last year, almost exclusively occupied the poll smart phones. These would presumably be even more this year to get nearly 40 percent of the domestic market for mobile phones. The most common operating system is an android, is used by seven of the top ten mobile voting, including the absolute winner.
The top ten came in second place still IOS operating system, which uses only cell phones from Apple. In absolute the third has a new Nokia N9 MeeGo operating system, but that shortly after the Nokia imposed on ice and probably no longer in any other cell phone apply. The only representative of Symbian in the top ten is the Nokia E7. In the categories chosen by jury, won in 2011 following devices: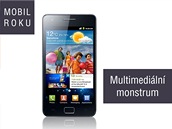 Mobile 2011, Jury Award – Multimedia monster: Samsung Galaxy S II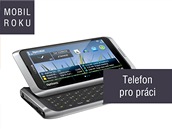 Mobile 2011, Jury Award – Phone work: Nokia E7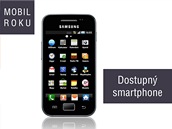 Mobile 2011, Jury Award – Available Smartphone Samsung Galaxy Ace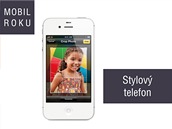 Mobile 2011, Jury Award – Stylish Phone: Apple iPhone 4S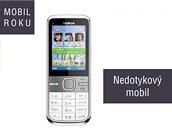 Mobil in 2011, Price Jury – non-touch phone: Nokia C5-00 5MP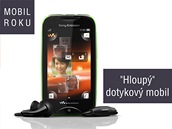 Mobil in 2011, Jury Award -" Stupid "touch screen mobile phone: Sony Ericsson Walkman Mix
winners prizes

| | |
| --- | --- |
| PETR Krassek | iPhone |
| Ladislav Adamec | Xoom |
| Zbynek Seda | Motorola Defy Plus |
| Zdenek Soušek | Motorola Atrix |
| Jaroslav Borek | Motorola Fire |
| Michael Bortl | Dex iBluek keyboard iPad2 |
| Peter Haničinec | Dex BluePack S8 |
| Patrick Balko | Dex HDMI AV docking station |
| Kapičák Jan | Dexia sports car |
| Paul Slunecko | Zia S1 |
| Martin Rupcová | Zia S1 |
| Roman Büttner | Zia L1 |
| Peter Lomič | Zia L1 |
| Radek Halfar | Zia D1 |
| Hana Koci | Zia D1 |
Prices for the drawn readers said www.huramobil.cz shop. Vylosovaným readers congratulations! About the prize we will inform you by e-mail.
Results of last voting here. Thanks to all readers to participate in the poll and I invite you to next year when the traditional November date will be the fifteenth anniversary edition of the poll.